The Flax Trust CBYO Conductors Award 2017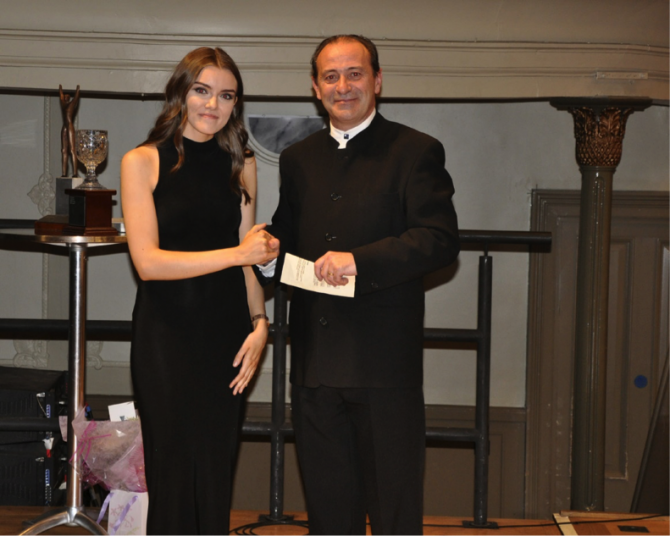 Justine Gormley – Violin & Piano
This 18 year old musician has been a member of the City of Belfast Youth Orchestra(CBYO) for the past 5 years and has been leader for the past season. Justine is very humble in approach and prepares meticulously for every rehearsal. Her calm and balanced manner encourages input and output from fellow musicians who feel at ease, encouraged to give their best and know that they can rely on her for direction. It is a privilege also to witness a young musician maturing musically, technically and temperamentally over a number of years – beginning as an enthusiastic, quiet and talented young violinist and pianist and now growing into a very fine, intelligent and musical leader who allows the music to do the talking!
An effective orchestral leader can pre-empt what is going to happen next in a piece of music, and be able to convey this message to others – this is a skill that Justine has developed well during this past year! Whilst leading the CBYO she was chosen as a soloist (piano) to perform the second movement from Rachmaninov's Piano Concert No 2 in the Ulster Hall. The performance was simply outstanding!
Justine is also a mentor who helps younger members settle into CBYO life, takes a lead in organising events and fundraising activities for the benefit of the orchestra, and actively encourages all CBYO players to follow the weekly practice goals. She is an excellent attender and is always punctual – ready to tune the orchestra at 8.45am!
It is evident that she is so able in so many areas and could become, if she wanted, a prominent member of the musical intelligentsia! It is very commendable and impressive that Justine can maintain such a busy and high-achieving life style. She has been accepted to study piano at the Royal Northern College of Music, beginning September 2017.