The Flax Trust is one of the largest and longest established development trusts in Ireland. It is a registered charity formed in Belfast in 1977. Over the years it has been committed to the "reconciliation of a divided community through economic and social development, bringing peace to both communities, one person and one job at a time".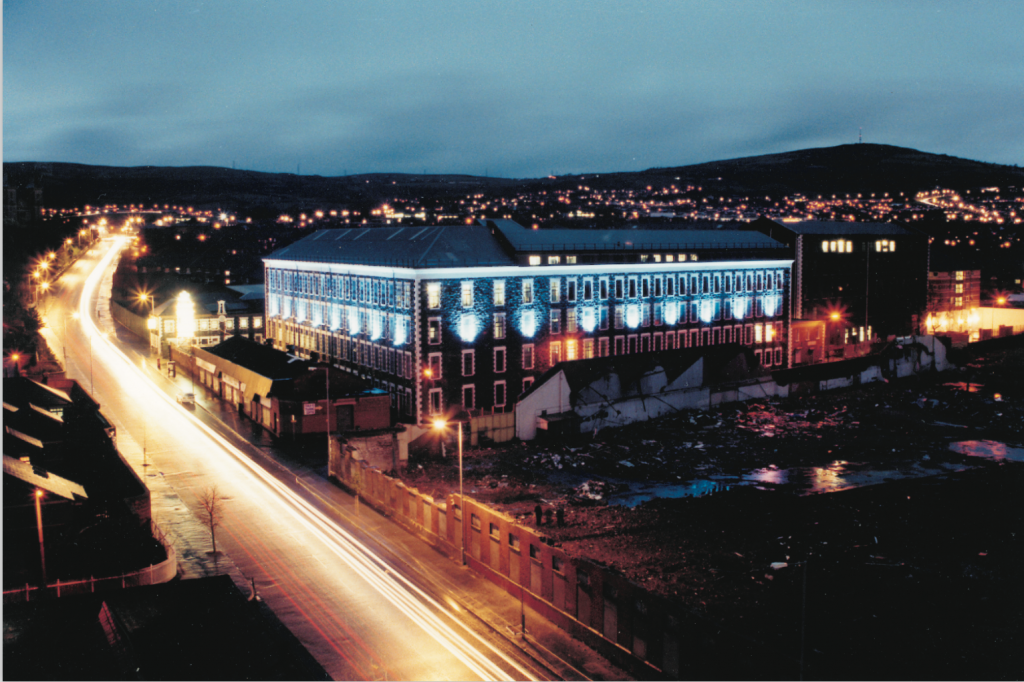 From its inception, the Flax Trust has promoted and practised with an absolute focus reconciliation through economic development. In identifying a strategy for the 21st century it has broadened its focus to expand and energize the work of reconciliation through the arts, especially the performing arts, education, business incubation, entertainment, social action, sport and technology. Through all of these media the Flax Trust is practising and assembling its strategy:
The Flax Trust – A Brief History 1977 – 2020
From literally nothing the Flax Trust has:
1977 delivered the former Brookfield linen mill from a state of dereliction into a 232,000sq. ft. Business Centre in which it accommodated over 70 small business, acted as a business incubator for all of Belfast creating over 400 businesses;
provided training and personal development for several hundred people each year through Brookfield Business School Ltd (Investors in people) and Community Aid 2000 Ltd (Investors in People);
developed an International Arts Centre – Theatre, Art Gallery, Dance Studio and the Pittsburgh Bar & Steelers' Restaurant;
initiated a Community Association and health programmes;
initiated social programmes which have served thousands of Meals on Wheels in addition to Day Care Centre meals;
built a Medical Centre housing Ardoyne Community Healthcare Centre, Ardoyne/Shankill Healthy Living Centre, Doctor's & Dental Surgeries, Elderly Day Care Centre;
built a Shopping Centre including a supermarket, post office, pharmacy, fancy goods store, florist, community-based organisations, café, offices and workshops providing services;
1982 Flax Trust/America was set up – Americans for Reconciliation through Economic Development 501(C)3
Flax Housing Association Ltd was set up in the 1980's to address the acute shortage of social housing and sheltered accommodation in the North Belfast area.
assisted Bannside Development Centre in Portadown, a socio-economic regeneration initiative which also serves to bridge the religious divide and promote mutual understanding;
initiated the Foyer Project which assists homeless and unemployed young people age 16-25, providing accommodation, independent living and developing skills to enhance employability;
in the late 1980's in a joint venture with Bombardier Aerospace redeveloped the derelict Belfast Co-operative department store in York Street into an 180,000 sq. ft. 'neutral' city centre block. Interpoint has housed the Northern Ireland Forum for Reconciliation; the Patton Police Commission; the Northern Ireland Justice Review; was home to the Novatech initiative which developed new technology-based ventures through a unique process of technology transfer and licensing, housed a range of new technology-based businesses; Northern Ireland Office, Department of Culture Arts & leisure (DCAL). Interpoint site is now owned by Ulster University;
in 1992/3 set up Ulster Community Conference an association of community based economic development organizations to support, foster and co-ordinate the community economic enterprise.
In 1995 initiated the creation of Ulster Community Investment Trust Ltd. UCIT was established as a provider of affordable loans and free business support and mentoring for the social economy sector.
1995 opened Holy Rood House. Accommodation for the frail elderly.
Initiated the School for Social Enterprises in Ireland, set up in 2003 in partnership with Ulster University in response to the need for high quality education, training and development for the growing social economy sector.
The highly successful Best Practice visit in 2010 to Fordham University, New York by a group of SSEI Graduates and a reciprocal visit of a delegation from Fordham University in 2013 was organized through Flax Trust/America. SSEI continues to roll out a series of high-profile Master Classes and plays a major role in professionalising the social economic sector.
Flax Trust Classics initiated in 2012 provides Bursary Awards to Queen's University for young classical musicians, to Camerata Ireland's Young Musicians of the Future, City of Belfast Youth Orchestra (CBYO) and City of Belfast School of Music with the objective of supporting their continued studies.
Flax Trust Inter-School, Cross Community Choir Competition FISCA bursaries initiated in 2013 continues to involve over 300 pupils from 20 schools in North Belfast Primary and Post Primary. FISCA is bridging the divide through music.
In 2015 created shared performance space at Holy Cross Church for the wider community as part of ongoing development and enrichment of diverse musical talent.
2015 The new 76 bed 5 Star Nursing Home for the elderly in North Belfast was officially opened serving both communities.
2016 – The Flax Trust continues to support The Education Task Group to develop a vision for Education in North Belfast. The vision is to build an 'All Faith Education Village'.
2016 – The Flax Trust funded the Houben Centre for Cross Community, personal development, community leadership and inter-community understanding.
2016 – The Flax Trust acquired the Shankill Mission Building to facilitate Argyle Business Centre re: development of a Hospitality Training facility for the Shankill area to improve local employment opportunities,
2017 – The Flax Trust set-up the ABC Trust, a Community Regeneration Project to facilitate the transfer of St Gemma's School to the new Trust to develop a health and leisure facility.
2018 – A housing development programme of £20,000,000 was negotiated for the people of Ardoyne and Old Park, North Belfast.
2018 – Flax Trust Arts presented the musical Oliver during Community Week, staged in a unique "Big Top" setting, comprising people from North Belfast and Greater Belfast areas.
2019 – Flax Trust Arts presented Rodgers & Hammerstein's OKLAHOMA in the MAC Theatre, Belfast, the week of August 7th as part of Community Week, the cast being from North Belfast and Greater Belfast Area.
2020 – Flax Trust continued work with ABC Trust on the new Health & Leisure Centre to replace St. Gemma's School. This work also included support from Urban Villages.