The 30th Flax Trust/America New York & Washington DC Banquet 
The 30th Flax Trust/America New York October Banquet was postponed due to Covid-19, instead, New York joined with Washington DC for a Virtual Breakfast on Tuesday, 24th November 2020
The event was Co-Chaired by Jim Boland, Chair Flax Trust/America & Mike McCurry, Director Flax Trust/America.
Jim Boland welcomed Washington DC guests and Sr Mary Turley welcomed New York guests. 
Fr. Van Dyke S.J. (Georgetown Prep) gave the invocation followed by remarks from Jim Quinn, President Flax Trust/America and brief reports were presented by Flax Trust/America Directors –
School for Social Enterprises in Ireland – Mike O'Neil, K & L Gates; Ulster Community Investment Trust – Bob Dormer, Hyman, Phelps & McNamara; International Fund for Ireland – John Feehery, Partner EFB Advocacy; Recent visit to Flax Trust/Belfast – Jeff Finkle, CEO, IEDC; Martin Moreland, Principal Mercy College Belfast, Flax Trust Education Outreach; Elaine Burns, Centre Manager Ardoyne Association, Flax Trust Community Outreach
Mike McCurry invited comments from Hon. Dan Mulhall, Ambassador of Ireland to the United States, Andrew Elliott, Director NI Bureau and James Hooley, Head of British Embassy Political Section.  Fr. Myles Kavanagh C.P., Chairman / Founder Flax Trust, addressed guests, followed by remarks from New York Banquet Co-Chairs Tom O'Brien, Director & Audit Chair, Prudential Financial Annuity Funds and John Kelly, CPCM, Managing Partner, Hanover Stone Partners, LLC, both Directors Flax Trust/America
Sr Mary Turley thanked sponsors.  The breakfast concluded with the performance of two Flax Trust music bursary recipients, Megan Mooney, Soprano and Bethany Simpson, Clarinet.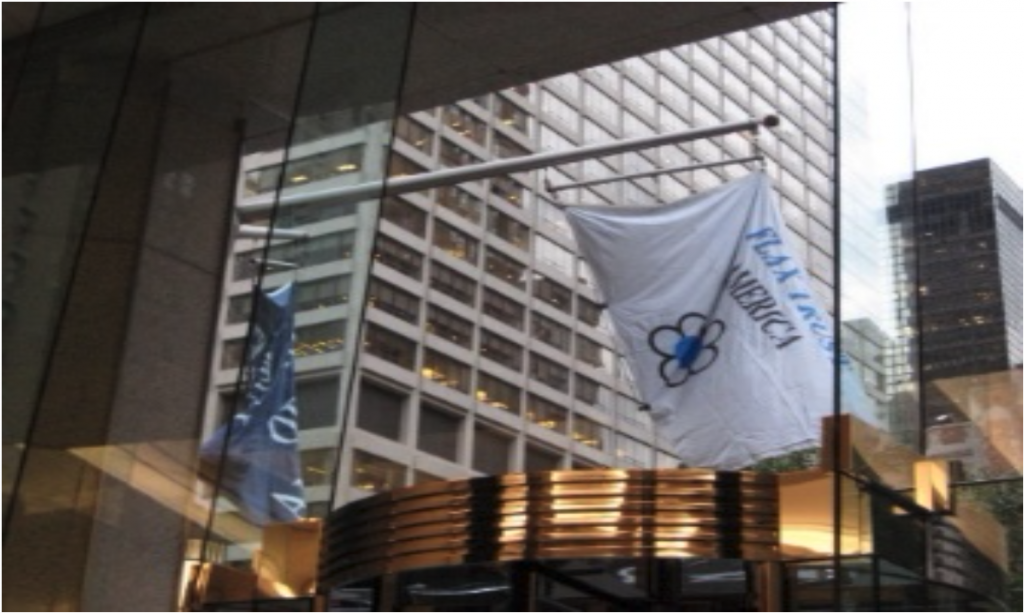 Flax Trust is very grateful to Mutual of America for the invaluable office facility on Park Avenue.
President: James E Quinn; Chair: James M Boland, Vice Chair: Mary J Grace: Co-founders Sr Mary Turley pbvm: Fr Myles Kavanagh C.P.