The 26th New York Banquet
The 26th New York Banquet took place on Wednesday 12th October 2016 at The '21' Club.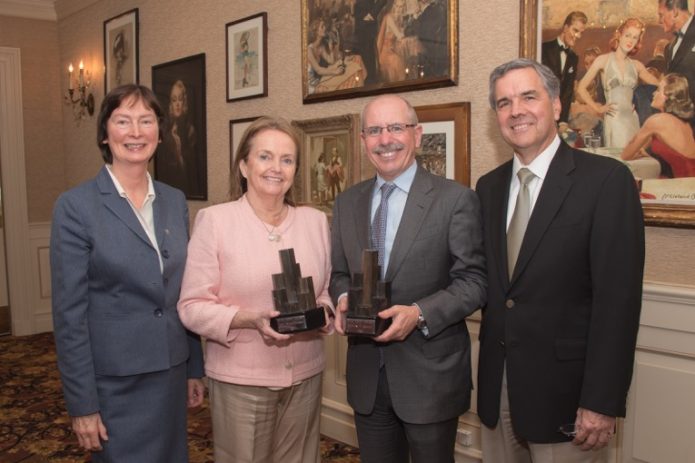 Honourees Loretta Brennan Glucksman, Philanthropist and Shaun Kelly, Global Chief Operating Officer, KPMG International with Sr Mary Turley, Trustee/Director Flax Trust and James Quinn, President Emeritus Tiffany & Co., President Flax Trust/America.
Following the cocktail reception Jim Quinn President Flax Trust/America welcomed guests and invited Fr. James Dorr to give the invocation.
Tom O'Brien, President & CEO Sun National Bank and Director Flax Trust/America, reported on Ulster Community Investment Trust (UCIT). John Kelly, CPCU Managing Partner Hanover Stone Partners, LLC and Director Flax Trust/America reported on the School for Social Enterprises in Ireland (SSEI).
Barbra Jones, Irish Consul General in New York, introduced honouree Loretta Brennan Glucksman. Sr Mary presented the Flax Trust Award. Loretta Brennan Glucksman responded.
Jim Quinn introduced honouree Shaun Kelly and Sr Mary present the Flax Trust Award. Shaun Kelly responded.
Professor Paddy Nixon Vice Chancellor, Ulster University addressed guests.
Megan Mooney soprano, a Flax Trust Bursary recipient performed Carrickfergus – Trad. Arr. and Nella Fantasia – E Morricone.
Jim Quinn invited remarks from the gathering. He and Sr Mary thanked guests and drew the proceedings to a close.
Some of the guests attending the Event: