The 21st Flax Trust Super Bowl Ball, one of the largest cross-community black tie events held in the City, took place on Friday, 5th February 2010, in the Europa Hotel Belfast.  John Carson, CBE welcomed guests who were entertained on arrival by the City of Belfast School of Music Big Band and later at the Ball by the Carl Corcoran band.
Jim Dougal, Broadcaster and Paul Clark UTV introduced the Honourees.  This year Professor Richard Barnett, Vice Chancellor University of Ulster and Professor Peter Gregson, President and Vice Chancellor, Queens University were honoured for their services to education; Paul O'Connell, International Rugby for his services to Irish rugby; Martin Purdy, Political Correspondent BBC, Tommie Gorman, Northern Editor, RTE and Ken Reid, Political Correspondent, UTV were all honoured for their for their services to the media.
Paul Clark UTV, welcomed people from the world of business, banking, academia, sport, media or in a private capacity from both North and South of the Island, from England and Scotland, and from North America.
Representatives from Government including: Sir Reg Empey, MLA, Minister, Department of Employment and Learning. Representing the Northern Ireland Civil Service David Sterling, Permanent Secretary, Dept. of Enterprise, Trade and Investment.  As well as the Hon. Julian King, British Ambassador to Ireland; Kamala S. Lakhdir, US Consul General. From the British-Irish Intergovernmental Secretariat, Joint Secretaries Mary Madden and Colm O'Floinn.  From the North/South Ministerial Council, Bill Nolan and Alison Beattie.
Political leaders, MLAs, MPs and Councillors from different parties included, David Ford, Francie Molloy, Deputy Speaker, Danny Kennedy, Ian Paisley, Jnr, Tom Hartley, Sue Ramsey and Senator Mary White.
Also present were Bishop Donal McKeown and Dean Houston McKelvey; Professor Alaistair Adair, Provost Jordanstown; Prof. Sakir Sezer, representing ECIT, Institute of Electronics, Communication and Information Technology, Queens University.
From the media –  Cathal Goan, Director General RTE; Tom Savage, Chairman RTE and Ed Mulhall, MD of News and Current Affairs; Michael Cairns, Editor Newsgathering and Political Programmes, BBC; Noel Thompson, Mary Kelly and the BBC's Hearts and Minds team.
Also present, Bill Montgomery, Director, International Investment, Invest NI; Terry Brannigan, Chairman CBI, Sir George Quigley, Chairman Shorts/Bombardier; Michael Ryan, Vice President and General Manager, Aerospace Operations, Bombardier;  Michael Clark, Director, Goldblatt McGuigan; Conal Harvey, Director of Operations, Harcourt Developments and Deputy Chairman Titanic Quarter Ltd; Mike Smith, Chief Executive, Titanic Quarter Ltd; Liam Nellis, Chief Executive, Inter-Trade Ireland; Niall Collins, Senior Manager, Goodbody Stockbrokers; Chris Carvill, The Carvill Group;  Seamus O'Prey, Chairman Ulster Community Investment Trust (UCIT); Professor Ken O'Neil, Chairman School for Social Entrepreneur (SSEI); William McKee CBE, Chief Executive, Belfast Health & Social Care Trust; Gavin Boyd, Chief Executive ESA (Education Services Authority).
Other persons of note included Monica McWilliams, Chief Commissioner, NI Human Rights Commission; Sir Ken Bloomfield, Commissioner for Location of Victims Remains; Mike Nesbitt and Patricia MacBride, Victims Commission; ACC. McCausland, Police Service of Northern Ireland; Al Hutchinson, Police Ombudsman for Northern Ireland; Aaro Suonio, Independent International Commission on Decommissioning;  Rena Shepherd, Chair of the Parades Commission and Sir Desmond Rea.
Some members of Flax Trust Dublin, London and Flax Trust/America were also present.
Fr Myles Kavanagh, Chairman of Flax Trust presented Bursary Awards to students from the School of Social Entrepreneurs in Ireland:
"The School for Social Entrepreneurs was set up to develop and professionalise leadership for the Social Economy.  This 3rd Sector comprises over 1000 organisations and employs over 20,000 people.  The School for Social Entrepreneurs is accredited to the University of Ulster.  The programmes include:
(1) The Advanced Diploma in Social Enterprise 'Creating a Social Enterprise'
(2) Advanced Diploma in Management Practice leading to 'Sustainable Futures'
(3) MSc in Executive Leadership
(4) Ready, Steady, Grow is a highly innovative, non-accredited responsive and flexible medium of training and development
On behalf of the Flax Trust I am delighted to present bursaries to two students who are completing their MSc in Executive Leadership.
Could I now ask Claire Trainor and Heather Weir to come forward to each accept their £500 Bursary."
Lady Empey, a member of the Flax Trust Ball Committee presented a cheque to Arlene Spiers from the Ulster Cancer Foundation the recipients of the "Enrichment through Respect for Cultural Difference Award".
Super Bowl Ball 2010 Honourees: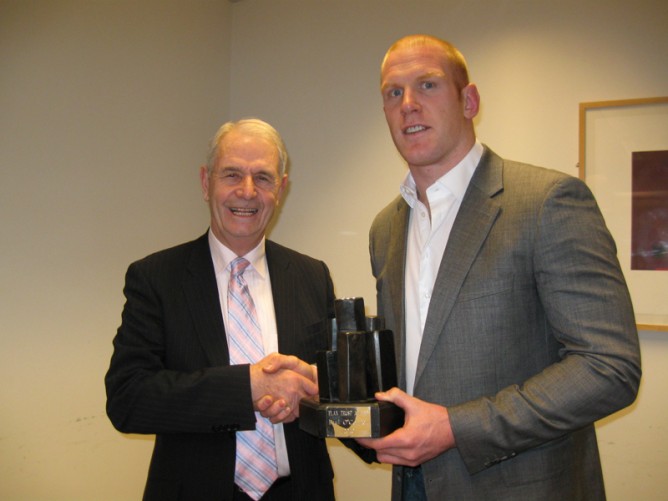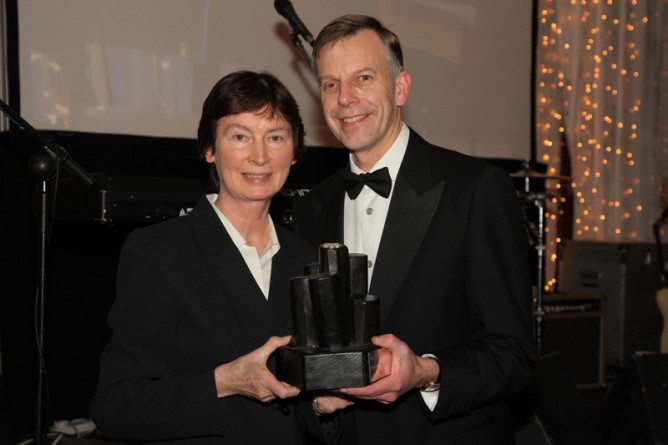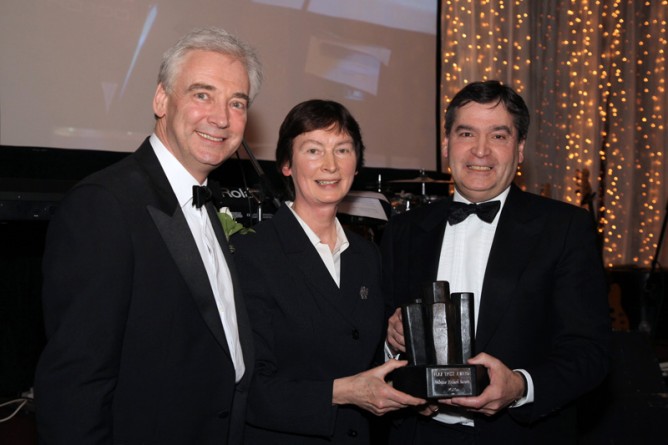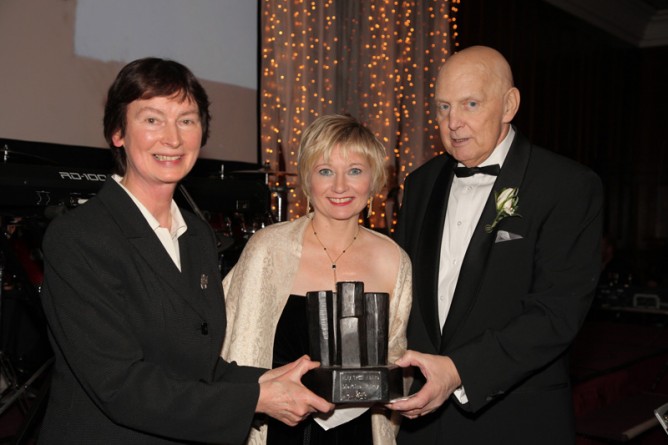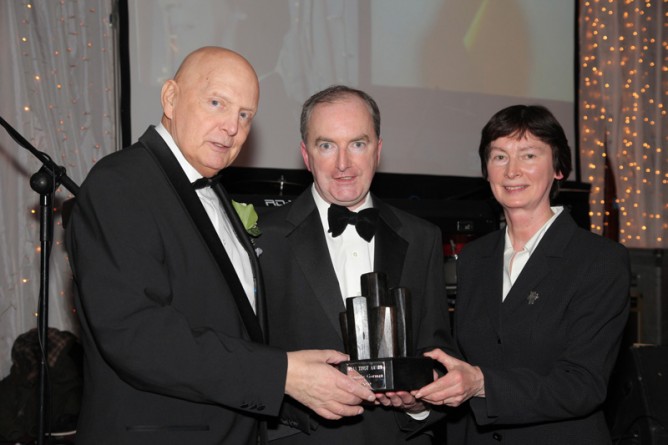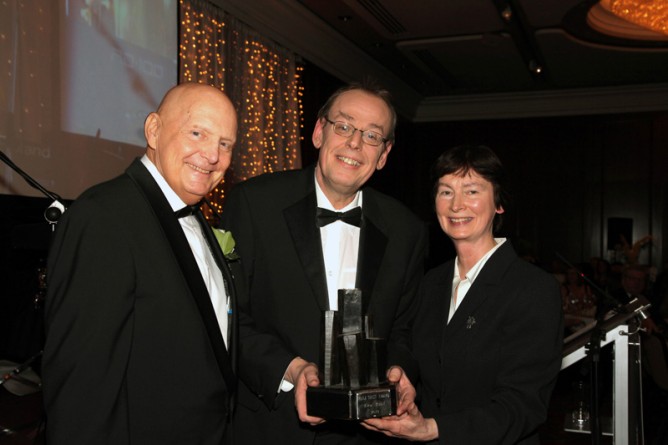 Some of the guest attending the Event: