Flax Trust Music Bursaries at Camerata – Ireland Clandeboye Festival
The Flax Trust presented The Children of Lir Award in addition to £6,000.00 in Bursaries to 3 young musicians at Camerata – Ireland's Young Musicians of the Future concert at Clandeboye.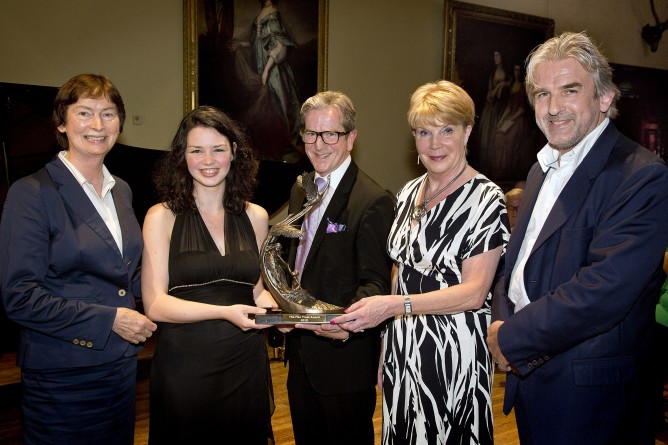 Mairead Hickey  from Cork presently studying Music (violin) at Kronberg Academy received The Flax Trust Children of Lir Award  at Camerata – Ireland's Young Musicians of the Future concert –
Sr Mary Turley, Mairead Hickey, James McGinn, Lady Stella Empy and Barry Douglas.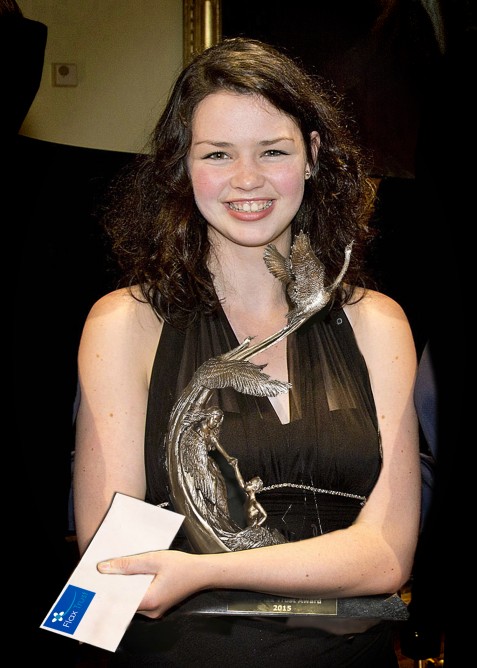 Mairead Hickey won the Jeunesses Muscicales Violin Competition, Romania 2012 and the Antonio Salieri Prize, Italy 2010.  She ahs been awarded the NCH Young Musician's Award, The Flax Trust Bursary at the Clandeboye Festival and the Catherine Judge Award.  From 2003 to 2014 she studied with Adrian Petcu at the CIT Cork School of Music.  She is now a student of Mihaela Martin at Kronbery Academy sponsored by the Ustinov Foundation.  Mairead has eight All Ireland fiddle titles.  Her 'Irish Fiddler' app is available on iTunes.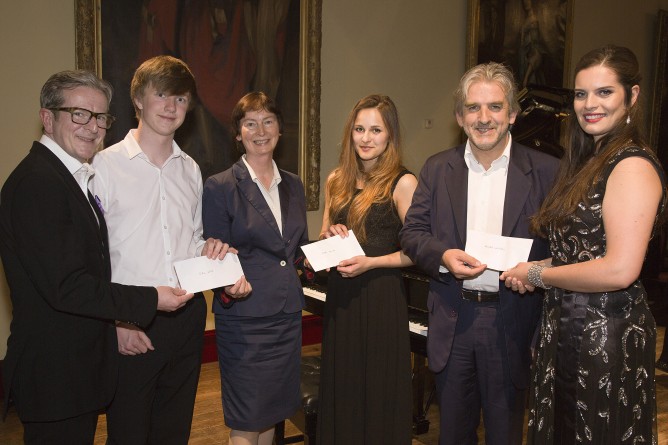 Young musicians – Killian White (Cello);Marian Kacazor (Flute )and Rachel Wolseley (Soprano) each receive a £2,000.00 Bursary to assist their further studies –  James McGinn, Sr Mary Turley and Barry Douglas.
Killian studies with Christopher Marwood at the RIAM.  He has won numerous prizes including the Clyde Twelvertrees Trophy (Electric Ireland Feis Coeil) and the National Concert Hall Young Musican Award (2013 & 2015).  Killian has performed as soloist with the Hibernian Orchestra, the Tallin Chamber Orchestra, the Kaunas Symphony Orchestra and the New York Concerti Sinfonietta.  In July 2015 Killian was invited to Verbier Summer Music Camp and he is delighted to return to Clandeboye for this year's festival.
Miriam currently is studying at the Royal Irish Academy of Music with William Dowdall.  Miriam began playing flute at the age of nine.  While on the Erasmus programme she studied at the a Universitat fur Musik und darstellende Kunst, Vienna with Barbra Gisler. Prizes include the McCullogh Cup, the RTE Lyric FM bursary in the ESB Feis Coeil, 3rd prize and The Brennan Prize in the Irish Freemasons Young Musician of the Year 2014 Maura Dowdall Concerto Competition. Miriam is a recipient of the Gaiety Bursary 2014 and is supported by the South Dublin County Council through their Arts Bursary Awards.
Rachel a finalist in NI Opera's Festival of Voice competition 2014, soprano Rachel has just completed her studies at t he Guildhall School of Music and Drama under t he tuition of Susan Waters.  Highly commended in the Mozart Singing Competition 2014-15, Rachel has also performed with the Castleward Opera, Brian Irvine's The Tailor's Daughter at the Grand Opera House, Belfast for the Belfast Festival at Queen's and at the St James Theatre, London.  Recent highlights include a masterclass wilth Rosalind Plowright OBE, a British Youth Opera workshop.