Flax Trust Music Awards Instrumental Grand Final, 23rd November 2019, Whitla Hall, Queens University, Belfast.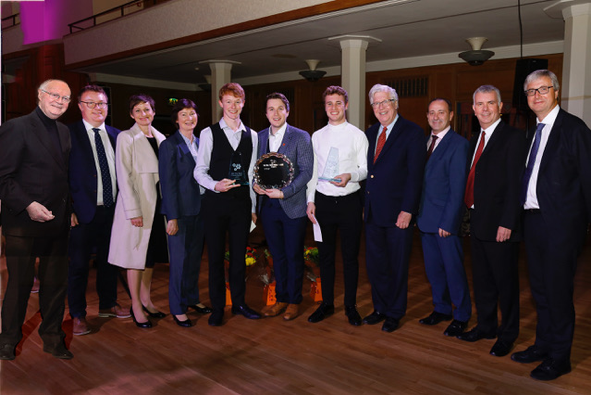 Fr Myles Kavanagh, Richard Yarr, Iona Petcu Colan, Sr Mary Turley, Tom Myles, Andrew Douglas, Fiachra de Hora, Jeff Finkle, Paul McBride, Martin Wall, Richard Wigley
The Flax Trust Music Awards were established to create a platform for exceptionally talented young musicians on the island of Ireland.  The bursaries being awarded total £6000 which go towards musical development and education.
The 'heats' for this final took place in the Harty Room, QUB, 26th June 2019.
The judges throughout were – Richard Yarr; Martin Wall; Iona Petcu Colan.  Master of Ceremonies was Richard Wigley.  The finalists were accompanied by the Ulster Orchestra, conductor. Andrew Douglas, 1st place, Fiachra de hOra, 2nd Place and Tom Myles 3rd Place.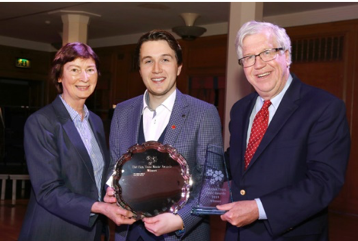 Andrew Douglas, Flute
Andrew Douglas was born into a family of musicians and began studying flute at the age of 6 with Richard Douglas. He is a recent graduate of the Royal Conservatoire of Scotland under the tutelage of Janet Burnley, Richard Blake and Helen Brew. As a recipient of the Arts Council of NI and BBC Young Musician's Platform Award, Andrew has been enabled to further his studies with various teachers across the UK and further afield.
His skill as an orchestral player was nurtured during his time as Principal Flute with both the City of Belfast Youth Orchestra (2010-14), and Ulster Youth Orchestra (2013-16) allowing him the opportunity to perform in The Royal Albert Hall, La Madelaine Paris, Ravello Festival Italy, Royal Concert Hall Glasgow, Ulster Hall and the Waterfront Hall Belfast.
Andrew is a regular guest player with the Ulster Orchestra including performances as Principal Piccolo and guest soloist, RTÉ Concert Orchestra as Principal Flute and Principal Piccolo and the Royal Scottish National Orchestra.  He has also performed alongside Camerata Ireland, Orchestra of Scottish Opera, Irish Chamber Orchestra and the Royal Liverpool Philharmonic Orchestra.
A keen soloist, Andrew has performed 'Fantaisie Brilliante sur Carmen' alongside the Ulster Orchestra and has recorded various repertoire for BBC Radio Ulster's 'Classical Connections such as 'Chaminade Concertino', 'In Ireland' by Sir Hamilton Harty and 'Poulenc Sonata for Flute and Piano'. He has also performed live on BBC Radio Ulster as a soloist and alongside Northern Irish flute quintet 'Quicksilver'.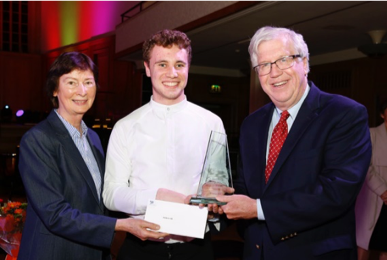 Fiachra de hOra, Viola
Dublin-born viola player Fiachra de hOra is quickly becoming one of Ireland's most prominent young musicians, and is in regular demand as a soloist and a chamber musician. He gave his own sold-out recital in the National Concert Hall's Kevin Barry Recital Room in March this year. He has won all Junior Viola competitions in Feis Ceoil, and the Junior Rose Bowl for the highest marked string player. In June 2017, he became the first viola player to win the National Concert Hall Young Musicians' Award. He is also winner of the Arthur Darley, Arthur Catterall and Senior Viola competitions in this year's Feis Ceoil.  He was principal viola player of the National Youth Orchestra of Ireland from 2015-2017, and has led the viola sections of the Orchestra of the Irish National Youth Ballet and the Dublin Youth Symphony Orchestra. He has also been principal viola player of the Young European Strings Chamber Orchestra, and he has toured with them to France, Belgium and Switzerland, winning international competitions. He has performed as an orchestral musician with Camerata Ireland, RTE NSO, The Ulster Orchestra and more, and has also been a reserve violist for the European Union Youth Orchestra for the past two years. In November 2018, he took part in 'Academos', the Orchestral Academy of the Irish Chamber Orchestra, and played in concert alongside members of the ICO.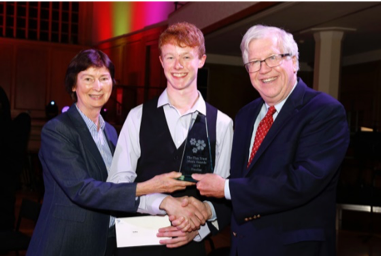 Tom Myles, Clarinet
Tom Myles is a clarinettist from Ballygowan who was one of the Woodwind Category Finalists in the 2018 BBC Young Musician competition. He is in his fourth year of membership with the National Youth Orchestra (NYO) of Great Britain, and his second as principal clarinet. Prior to this he was a Leverhulme Scholarship member of the National Children's Orchestra (NCO).
As well as performing throughout the UK with NCO and NYO, including three BBC Proms, Tom played at last year's 'Latitude' festival in Suffolk, appearing on the 'BBC Music Introducing' stage. He has also performed with the NYO Wind Quintet on BBC Radio 3's 'In Tune' programme.
In August last year Tom attended the Camerata Ireland Academy at Clandeboye Estate. In October 2018, Tom was a finalist at the Frank Maher Classical Music Awards and earlier this year was the winner of the Concerto and Overall Young Instrumentalist classes at the Ballymena Festival.  Recent performances have included a Charles Wood Festival Recital with Rob Burton (BBC Young Musician finalist) and a number of appearances on BBC Radio 3, BBC Radio 6 Music and on BBC Radio Ulster. Tom also performs regularly on clarinet, saxophone and flute in the 'pit' orchestra in theatres such as the Grand Opera House and The MAC (Belfast), playing for shows as diverse as West Side Story, 42nd Street and Avenue Q. Tom is looking forward to his fourth BBC Prom and a tour to Berlin with the NYO later this summer along with performing as a soloist with Camerata Ireland in the National Concert Hall, Dublin in November.
In December 2018 he was the soloist for Mozart's Sinfonia Concertante with the Young European Strings Chamber Orchestra alongside violinist Gina McGuinness. He has taken part in masterclasses with Paul Neubauer, Ruth Gibson, Kirill Troussov, Nils Monkemeyer and many more, and has played in festivals such as the West Cork Chamber Music Festival, Music for Galway Festival and the GAIA Chamber Music Festival in Switzerland. He has also taken part in the Clandeboye Festival Young Musicians' programme for the past two years. As well as that, he has had the privilege of taking part in the National Concert Hall Chamber Music Gatherings in 2018 and 2019.