CBYO Flax Trust Conductor's Bursary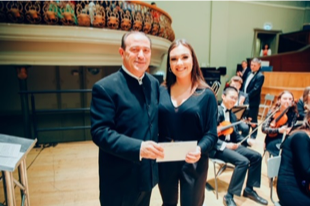 The CBYO values greatly the partnership built up in recent years with the Flax Trust. The Trust's investment in the Orchestra has not only helped to enrich the musical lives of CBYO
members but has also provided high quality platforms for primary and post primary children to sing and perform with a live orchestra. Flax Trust continues to invest in and through the
powerful instrument of music-making to awaken and develop many untapped talents, and to improve the well-being of the performers and their audiences – young and more senior!
The Conductor's Award is one example of how the Flax Trust helps to nurture talent and hard work within the CBYO. The Bursary of £500 is awarded to a member nominated by the Conductor for progress, musical excellence and efforts over the past season. The monies will be used to help support the recipient in the next step of the musical journey.
This year's recipient Ellen Quinn
Ellen has been playing cello since the age of 8. Cello began for her at the School of Music under the tutelage of Janet Ferguson where she participated in many of the school's various orchestras.  Eleven years on, Ellen is now in her 4th year as a member of the CBYO as section leader and also plays with the Ulster Youth Orchestra, QUSO, Elmwood Chamber Orchestra and occasionally plays with the Ireland String Quartet, Arco String Quartet and cello duo, 'The Cellists'. Ellen is currently taking a gap year and spending most of her time practising as well as teaching in Dominican College and BRA.
With the help and guidance from two inspirational teachers, David McCann, in Belfast, and Matthew Lowe, in London, Ellen will begin studying with Victoria Simonsen, as an Undergraduate, at the Royal Northern College of Music, in September 2019.