Advice
The advice centre has come to the end of another extremely busy year. The centre is one of the great success stories for the Ardoyne Association and remains a vital service for all in our community and the wider North Belfast Community. Advice remains at the very heart of the Ardoyne Association with over 3490 enquiries, and 1802 new clients registered.  Some of the breakdown is as follows, Benefits 2448; Housing 439; Consumer 2; Health 44; Employment 17; Money/ Debt related 44; and Appeals 48.
Helping Hand NBAP Food Bank 
Increased levels of poverty across North Belfast have seen a massive increase in families and individuals in need for Food Vouchers & Hampers. This is a distressing and a worrying trend. For the year ending 2015 we have provided over 300 hampers and food vouchers. We are concerned that this level of poverty and need will only increase with Welfare Reform.
Murals & Re-imaging 
Our organisation holds a long tradition with addressing Environmental,  Housing Need and Issues. Graffiti is a continuing problem across the community; we continue to work with others within the community to address reimaging. In 2015 during Ardoyne Fleadh we helped to commission a new mural dedicated to our famous Boxing Community and part of transforming one of our main arterial routes in the area.
Education task group
In November 2014 the Education Task Group reconvened a conference in order to continue to have the communities voices heard and the need for our vision for the future of education to form part of any future plan developed by CCMS. We are delighted that as a community our voice has been heard and we are included in the North Belfast Post Primary Proposal.  It is this proposal that was out for consultation Nov 2015 – Jan 2016 and once again we have engaged with our community and have encouraged all to respond. We were anxious that the Minister for Education also heard our voice and that of our children, many of whom have done some wonderful drawings of what their new school would look like. The consultation period has now closed and we are delighted by the response, our proposal has received 5526 votes for Option B, a new co-educational all ability post primary school to be cited on the Crumlin Road. The ETG were delighted that on Monday 25th January we presented our findings to the Minister John O Dowd. We currently await the Ministers decision on our future.
Community development
This has been another challenging and extremely busy year for the Ardoyne Association's Community Development Unit. Most of the work this year has been focused on community safety, housing, environmental issues and dealing with the public on a daily basis. The Association has expressed concerns that funding today is focused on people aged between 16 and 24 years, although this is good, we cannot neglect the majority of those who are long termed unemployed whom we have been working with.
Reconciliation Group
Over the past year the Women with Focus Group have been meeting up on a regular basis to take part in a number of different good relations workshops/activities including Health issues programmes, pampering days, gardening, Irish history, genealogy and First Aid courses. Our latest training, from the Wolf hill Centre in Ligoniel is "Women in Society 100 years then and now", this lasted from February 2015 to the end of October 2015 and included trips to BCC to meet the Lord Mayor Nichola Mallon, visits to Stormont, Dáil in Dublin, Westminster and the Scottish and Welsh Parliaments to see how each are different.
Training
The Associations 'Hands of Hope' project, was set up to train and assist unemployed women from local communities back into employment. The training lasts 9 weeks, one day per week and is accredited. At the end of the course a graduation and celebration takes place. Transformation was the key within the training which went far beyond being an education and skills programme through 'deep value relationships'. The one-to-one relationships were key to unlocking potential, tackling need, building personal and social capital and addressing inequality and empowerment. Over the last year we have run 7 training programmes with 60 unemployed women , so far about 40 are in employment and others have interviews lined up.
Planning and Place Making Award 2016
The Ardoyne Association were the lead partner with the Greater Ardoyne Tension Monitoring Group to achieve two Planning and Place Making Awards 2016, one was team of the year for the whole of the UK and the second was for Northern Ireland.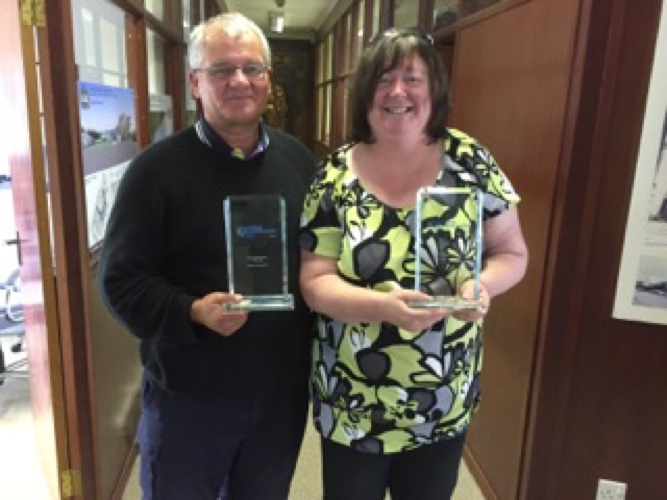 Kevin McGarry, Community Development Manager & Elaine Burns, Officer Manager