22nd Annual Flax Trust Washington D.C. Event
The 22nd Annual Flax Trust Washington D.C. Event took place on Tuesday, November 20th, 2012.    Jim Boland, President, Boland and Chairman of Flax Trust/America, welcomed guests to the The Champagne Reception and Breakfast held in The Rooftop Terrace at the The Adams, across from the White House.  It was another very successful event.Honoree Norah O'Donnell, Co-host 'CBS This Morning' was introduced by Mike McCurry, President Public Strategies Washington Inc. and Director Flax Trust/America.  Honoree John Feehery, President of Quinn Gillespie Public Affairs was introduced by Hon. James Walsh, K & L Gates and Director Flax Trust/America.  Sr Mary Turley, Director, Flax Trust presented Flax Trust Awards to both Honorees.
Three Directors of Flax Trust/America reported on:  (1) Flax Trust Finance – Bob Dormer Esq, Hyman Phelps & McNamara; (2) Ulster Community Investment Trust (UCIT) – Mike O'Neill, Esq K & L Gates; (3) The School of Social Enterprises in Ireland (SSEI) – Jeff Finkle, International Economic Development Council (IEDC).
Other Speakers included: Norman Houston, Director Northern Ireland Bureau, Kevin Conmey, Irish Embassy Washington DC; Paul Quinn, Esq, Nossaman, Former Speaker Tom Foley, Hon. Tom Donahue, President Emeritus AFL-CIO and Rory O'Neil, Peaceplayers International, who had just returned from Northern Ireland.
John Feehery, President Quinn Gillespie Public Affairs received the Flax Trust Award from Sr Mary Turley, Director Flax Trust.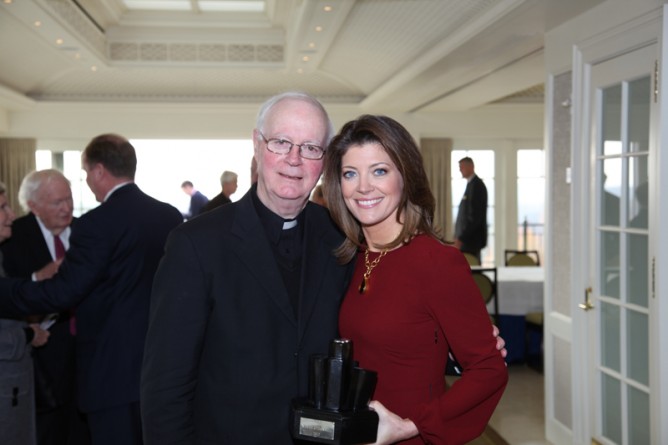 Honoree Norah O'Donnell, Co-host 'CBS This Morning'  with Fr Myles Kavanagh CP, Chairman, The Flax Trust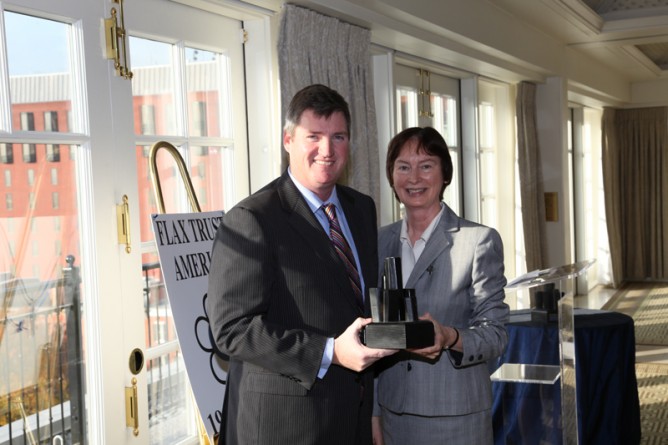 Honoree John Feehery, President Quinn Gillespie Public Affairs with Sr Mary Turley, Director The Flax Trust